EESAechoes the sentiments of the entire technical service fraternity, with announcement of price correction in cost of equipment rental & technical services
---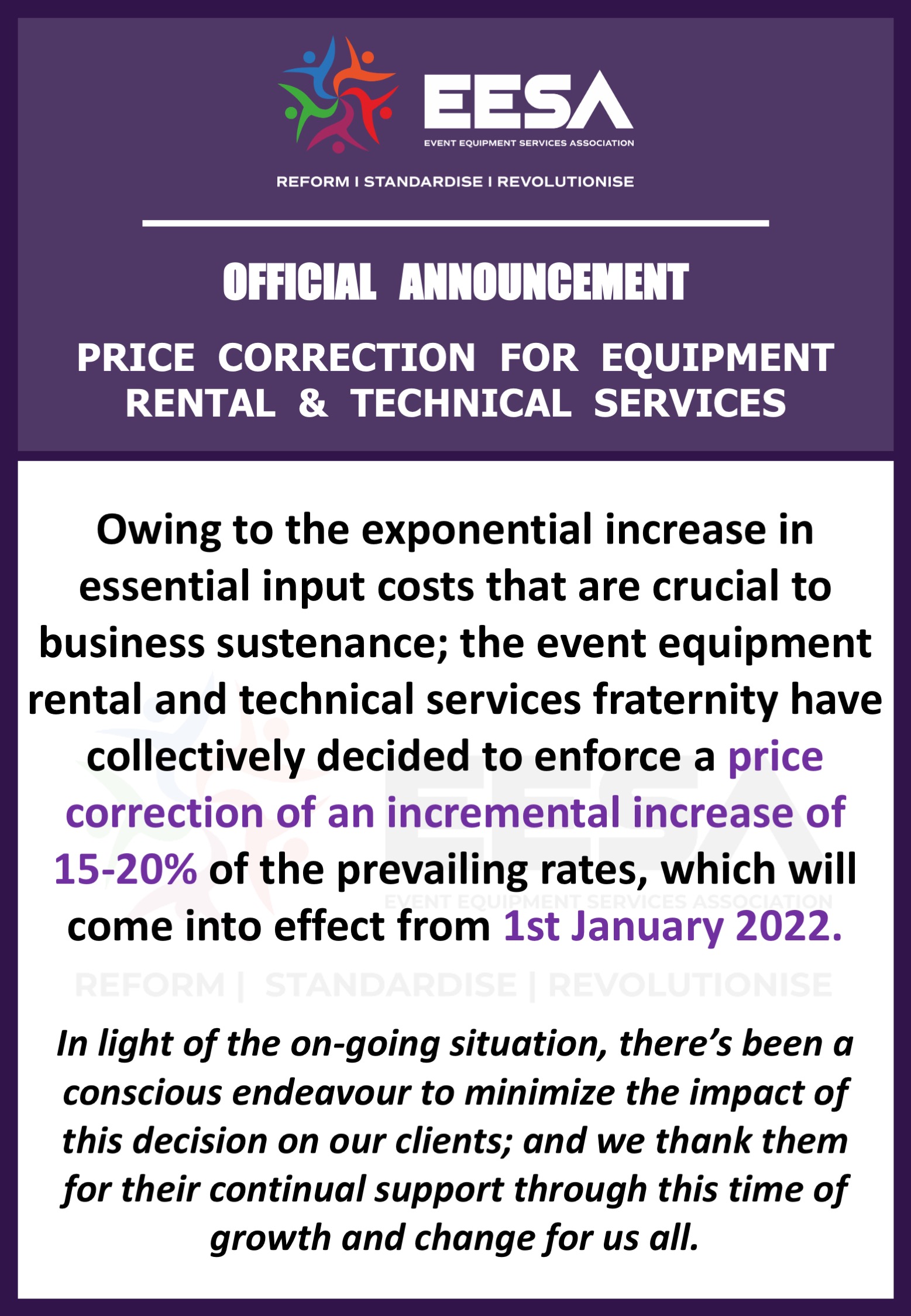 EESAechoes the sentiments of the entire technical service fraternity, with announcement of price correction in cost of equipment rental & technical services
In December, the Event Equipment Services Association (EESA)– the national association representing the interests of event equipment service providers and technical service professionals across India – voiced the sentiment of the entire event equipment rental service and event technical service community,as they announced a price correction in the cost of equipment rental & technical services for live events.
The price correction – which has come into effect from 1st January 2022 – emphasizes an incremental increase of 15-20% of the previous prevailing rates, and has been collectively implemented in light of the fact that fees for equipment rental and technical services haven't changed for several years despite the exponential increase in costs of essentials like fuel (thereby affecting transportation and logistical costs), raw materials (thereby affecting equipment procurement and maintenance costs), general sustenance (thereby affecting staffing, crew and professional service costs), general business overheads, and other crucial input costs.
"The recent announcement made by EESA on behalf of the entire event equipment rental servicesand technical services community is undoubtedly steadfast. Having said that, we must assure everyone that these decisions weremade after careful deliberation of the on-going situation and involves a conscious endeavour to minimize the impact of these decisions on our clients i.e. the event management community and our end clients. We have faith that the sincere reasons driving these decisions will be recognized and respected, and we look forward to actively engaging with our clients in working together on planning for a busy 2022 filled with spectacular events. We are thankful for their consistent support in empowering us to maintain the highest level of commitment in providing the very best technical expertise and infrastructure for events across the board" asserts EESA President Mr Felix Remedios
The decision has garnered praise and supportfrom an overwhelming majority of members within the live event equipment rental and technical services community, across application verticals that include Live Sound & Light, Trussing, Rigging, Staging & Infrastructure, LED & Screens, Projection & Visual Technologies, Power Distribution, SFX & Pyrotechnic, etc.