EESA steps into 2022 with positive winds of change for India's event services fraternity
---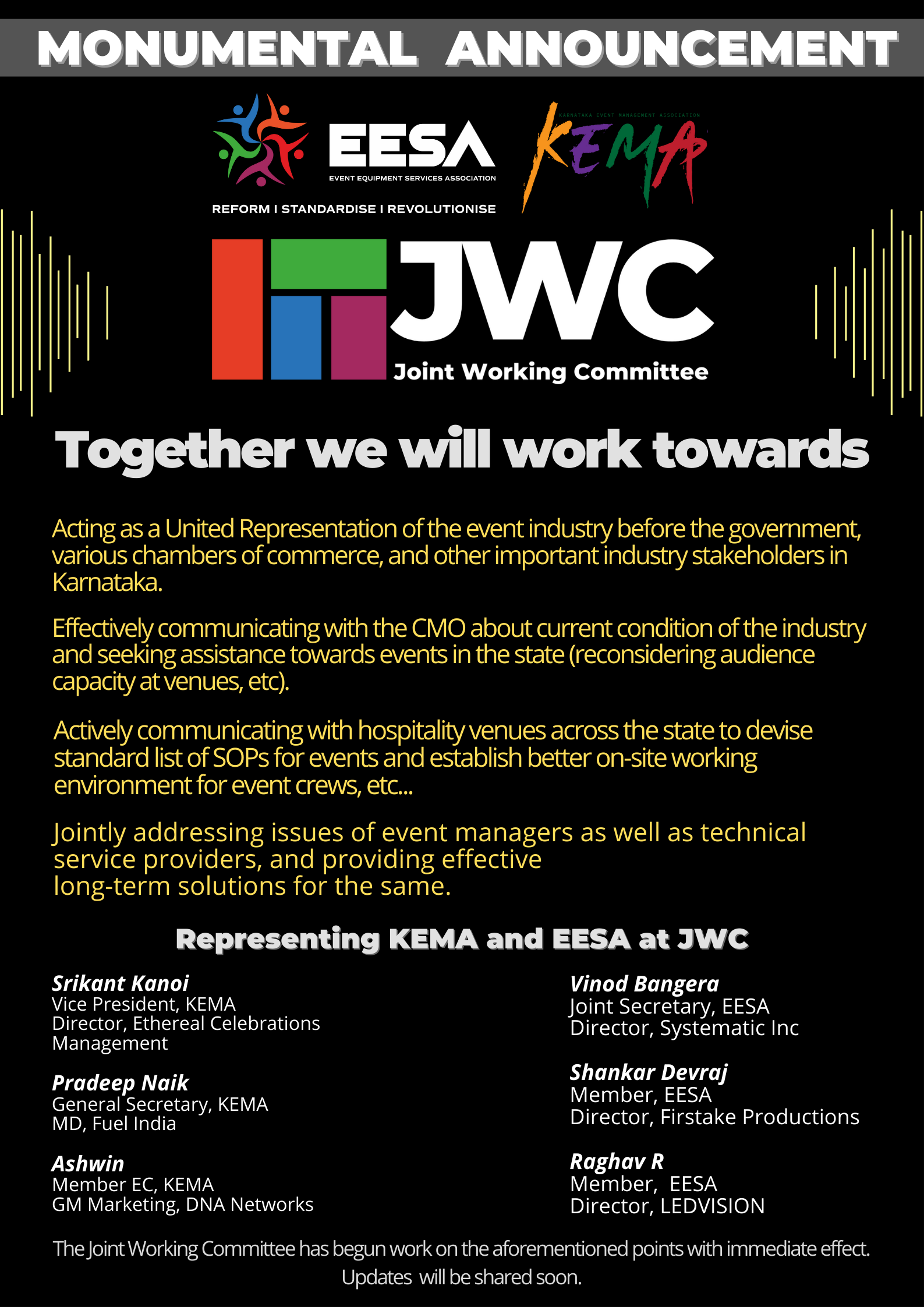 EESA steps into 2022 with positive winds of change for India's event services fraternity.
Active initiativesinclude the establishment of a monumental Joint Working Committee in partnership with the Karnataka Event Managers Association
In a first of its kind move – members of the Event Equipment Services Association's (EESA) working committee formally met with counterparts of the Karnataka Event Management Association (KEMA), and the two associations mutually agreed to come together to form a Joint Working Committee (JWC) with three representatives from each association, who will work together in effectively addressing the common concerns of the event management and technical services fraternities, while also acting as a unified voice in representing the entire event fraternity in Karnataka when communicating with the state government, chambers of commerce, and other key decision making offices.
KEMA nominated Mr Srikant Kanoi(Vice President - KEMA, Director - Ethereal Celebrations Management), Mr Pradeep Naik (General Secretary - KEMA, MD - Fuel India) andMr Ashwin (Member EC - KEMA, GM Marketing - DNA Networks) to represent the association within the JWC, whereas EESA nominated Mr Vinod Bangera (Joint Secretary – EESA, Director – Systematic Inc), Mr Raghav R (Member – EESA, Director – LEDVISION), and Mr Shankar Devraj (Member – EESA, Director – Firstake Productions) to be the active participants within the JWC.
The JWC has already established a concise agenda to be worked on for the first quarter of 2022, with the key points including:
a) Establish a formal line of communication withKarnataka CMO, and engage in purposeful conversations that addresses the current state of the industry and culminate in meaningful support extended to members of the community.
b) Establish an efficient mechanism that assures consistent engagement with hotels and venues, and works to institute a concise SOPs with all venues in Karnataka that will be adhered by all concerned parties.
c) List pressing issues faced by technical services and agencies respectively, and engage in regular communication with the intention to achieve effective long-term solutions through mutual consensus.
EESA President – Mr Felix Remedios – is optimistic about the JWC's potential to breathe positive winds of change within the event industry, as he expresses, "The Joint Working Committee between KEMA and EESA is a monumental achievement that exemplifies the commitment and intent of agencies and technical service providers to come together as one united industry and work cohesively for the mutual benefit of both fraternities. We view this as the first significant step in standardizing the event industry in Karnataka, and consequently moving towards consolidating events and entertainment as a government recognized structured industry. We thank KEMA for sharing our enthusiasm and extending their unequivocal support in making the JWC possible, and we look forward to this initiative acting as a beacon of inspiration for the entire events industry across India."